---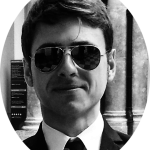 Giosuè D'Asta (also named Josh) is a young composer for Film/TV & Visual Media currently based in Rome, Italy.
He was born in Palermo into a family of musicians, his father being a conductor and his mother an opera-singer.
He loves twentieth century music above all and he thinks that there is still a lot of little-known music to discover, study and play.
Giosuè is a polyhedral composer. Although he received a classical education in composition, piano and organ in Italy and abroad, his music is also influenced by Rock, Heavy Metal, Pop, Traditional and Jazz because he played and sang in several bands and he travelled across many countries.
He also graduated (M.A.) in Philosophy.
During his years of listening and studying he has met a lot of twentieth and twenty-first century musicians. He has discovered many amazing soundtracks and many really interesting composers, but only after having listened to James Horner, Elmer Bernstein and Jerry Goldsmith's music a new world opened up for Giosuè: he decided to devote himself to the film music world.
He had the privilege to study film scoring and orchestration with Hollywood composer Golden Globe-nominated Christopher Young (Spider-Man 3, Ghost Rider, Hellreiser, Drag me to Hell).
He has also attended talks, seminars and recording sessions with Derek Gleeson (conductor of the Dublin Philharmonic Orchestra), Christo Pavlov (conductor of Sofia Metropolitan Orchestra and Choir), Debbie Smith (music producer and recording engineer at Windmill Lane Recording Studios) and Tony Perrey (Director of the Windmill Lane Recording Studios and music producer) all of which have given him invaluable insight and have contributed to his training in the field at the highest level.
In 2016 he has been selected as a chosen composer for the Film Music Concert at the National Academy of Music "Prof. Pancho Vladigerov" of Sofia with the Sofia Sinfonietta Orchestra, performing music he created in July 2015 under the guidance of Christopher Young. His music was widely appreciated by the audience and professionals. Currently he is working on new pieces for short and feature movies at the SoundTrackStudio of Catania.
"You have a great talent Josh…I like your melodies…I like your tunes…it was great to meet you my friend…I really see you in Los Angeles, move there as soon as possible."
Christopher Young
(Hollywood Composer)
---
"I'm convinced that you have a wonderful lyrical and melodic skill. Your music works perfectly for movies. Go ahead Josh."
Derek Gleeson
(Music Director and Conductor of the Dublin Philharmonic Orchestra)
---
"Giosuè is truly talented. He works hard on every task you give him and always gives his best. I was very impressed with his orchestration for the Klangkraft Orchestra in Berlin. "
Mahlon Berv
(Hollywood Composer)